Technology
Custom technology solutions for Education and Enterprise
For over 35 years, Microtek has been providing custom technology bundles and industry leading end user support to our clients throughout North America. We bring our expertise and experience to every opportunity and partner with our clients to help them reach their goals.
Microtek's Imaging Process
Microtek has been developing custom PC images for more than 20 years. In that time, computers have gotten smaller, faster, more mobile and made us evolve along with them. We have advanced our imaging processes using new software, new hardware and technics that we continue to refine in order to keep up with the ever-changing PC designs.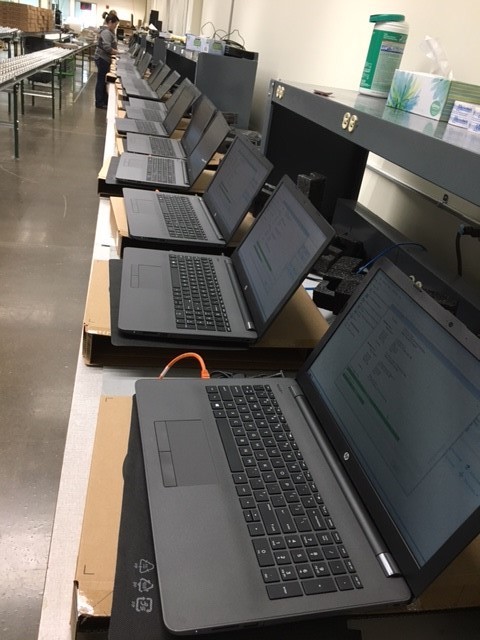 However, the custom image development is more than just the hardware and software we use. The most important part of our custom imaging department are the technicians and our image creation process.
The process for creating a custom image consists of three main questions.
What does the user expect?

Select the hardware to be used
Determine what software or additional peripheral devices are needed

What will the PC look like?

Design the image; what software, settings and shortcuts are required
Customize the desktop and user setting to what is needed for the client

What can we do to make it better?

Strip the PC down and rebuild it to meet the specific design needs of the end user
Install software to enable better support of the PC remotely
Build a custom recovery drive for the image
After all of this, we deploy and test the image on multiple pieces of hardware before mass deployment and delivery to the end user.
Microtek's Imaging Advantage
Our years of experience, have taught us one inevitable fact;
Sometimes, things break.
But it is not whether something can be broken that matters as much as whether something can be fixed. This is where Microtek stands above the rest.
During the image development process, we build in features and install supporting software that makes the end user's experience more reliable and enjoyable. We remove unwanted software that may cause problems or slow performance with your system. We remove any third-party software and trial versions of software that are not needed. All of this increases the reliability of the PC and improves the end user's experience.
However, there is always the chance for something to break and that is where Microtek's customer service comes to the rescue……….
Microtek's Customer Service Advantage
Our customer service goal is always, One Call Resolution.
To make this goal a reality and not just marketing jargon, our technicians are trained on every piece of hardware and every custom image that we deploy. Our support technicians are also our repair technicians, so their understanding of the technology goes beyond the surface of the PC. We cross train all employees to ensure a full understanding of all processes and products which results in technical support that is more than just scripted questions and canned responses.
We know that when someone is calling into our support line, it is likely an emergency situation and we always work toward the quickest and best solution.
No Job is Too Big
Microtek is currently responsible for the technical support of over 80,000 individual computers being used in educational institutions across North America and our clients continue to sing the praises of our IT Helpdesk Team.
---
Testimonials
They helped us customize, not just a bag and the tools inside, but an effective way to start our students off on the right foot.

―Damon Fugett, Associate Director, DeHart Technical School